Spinocerebellar Ataxias Treatment Market and Market Insights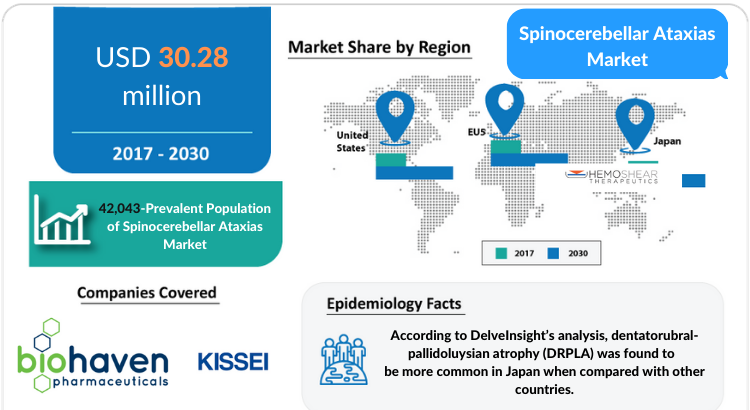 "Spinocerebellar Ataxias Market" report has been added to DelveInsight
DelveInsight's "Spinocerebellar Ataxias Market Insights, Epidemiology, and Market Forecast-2030″ report delivers an in-depth understanding of the Spinocerebellar Ataxias , historical and forecasted epidemiology as well as the Spinocerebellar Ataxias market trends in the United States, EU5 (Germany, Spain, Italy, France, and United Kingdom) and Japan.
Spinocerebellar Ataxias Overview
Spinocerebellar Ataxia (SCA) is a genetic disorder which is progressive, degenerative, and often fatal. The clinical marker of all SCAs is a progressive loss of balance and coordination accompanied by slurred speech. The mobility and communicative skills of individuals with an SCA are restricted, which strongly impairs quality of life, and many SCAs lead to premature death.
Request free sample copy- https://www.delveinsight.com/sample-request/spinocerebellar-ataxias-market
Spinocerebellar Ataxias Market: Regions Covered
The United States
EU5 (Germany, France, Italy, Spain, and the United Kingdom)
Japan
Spinocerebellar Ataxias Key Players
Biohaven Pharmaceuticals
Kissei Pharmaceutical
IntraBio
Steminent Biotherapeutics
And many others
Spinocerebellar Ataxias Drugs
Troriluzole
Rovatirelin (KPS-0373)
IB1001
Stemchymal
And many others
Spinocerebellar Ataxias Treatment
Current treatment pipelines involve the use of pharmacological molecules to target affected downstream pathways, as well as genetic therapies to decrease toxic polyQ gene products. The path to effective therapies for SCAs is hampered by their heterogeneity; specific therapeutic approaches may be required for each genotype.
Spinocerebellar Ataxias Market Report
Genetically, the SCAs fall into two major groups: those caused by dynamic repeat expansion mutations (repeat expansion SCAs) and those caused by nonrepeating mutations. Further, repeat expansions are also a major cause of non-SCA inherited neurological diseases. There are at least 12 repeat expansion SCAs. Six of these diseases—SCA1, SCA2, SCA3/Machado–Joseph disease, SCA6, SCA7, and SCA17 are caused by translated CAG repeat expansion mutations that encode stretches of pure glutamine in the respective disease proteins; these diseases are thus referred to as polyglutamine SCAs.
Spinocerebellar Ataxias Treatment Market
Spinocerebellar Ataxia (SCA) treatment landscape is currently devoid of any approved therapies. The clinical care of patients with SCA focuses on managing the symptoms through physiotherapy, occupational therapy, and speech therapy. Intense research has greatly expanded understanding of the pathobiology of many SCAs, revealing that they occur via interrelated mechanisms (including proteotoxicity, RNA toxicity, and ion channel dysfunction), and has led to the identification of new targets for treatment development.
Spinocerebellar Ataxias Market Insights
However, the diagnosis, prognosis, and management of spinocerebellar ataxia (SCA) continue to be challenging in current practice. This is related to an incomplete understanding of the pathophysiology of the disease process, complexity of initiating factors, and a lack of evidence-based standardized therapies. Various genes have been identified in which mutations can lead to SCA.
Spinocerebellar Ataxias Expected Emerging Therapies
Troriluzole (BHV-4157) (Biohaven Pharmaceuticals)
KPS-0373 (Rovatirelin) (Kissei Pharmaceuticals)
Request free sample copy- https://www.delveinsight.com/sample-request/spinocerebellar-ataxias-market
Table of content
1. Key Insights
2. Executive Summary of Spinocerebellar Ataxias
3. Competitive Intelligence Analysis for Spinocerebellar Ataxias
4. Spinocerebellar Ataxias: Market Overview at a Glance
5. Spinocerebellar Ataxias: Disease Background and Overview
6. Patient Journey
7. Spinocerebellar Ataxias Epidemiology and Patient Population
8. Treatment Algorithm, Current Treatment, and Medical Practices
9. Unmet Needs
10. Key Endpoints of Spinocerebellar Ataxias Treatment
11. Marketed Products
12. Emerging Therapies
13. Spinocerebellar Ataxias: Seven Major Market Analysis
14. Attribute analysis
15. 7MM: Market Outlook
16. Access and Reimbursement Overview of Spinocerebellar Ataxias
17. KOL Views
18. Market Drivers
19. Market Barriers
20. Appendix
21. DelveInsight Capabilities
22. Disclaimer
23. About DelveInsight
Spinocerebellar Ataxias Market Drivers
Increasing R&D Activities
Market Share Potential
Entry of the Emerging novel therapeutic approaches
Rising Awareness
Spinocerebellar Ataxias Market Barriers
Lack of Clinically Relevant Biomarker
Lack of sensitive and unbiased measures to anticipate disease progression
Lack of therapies for all SCA forms
Disease Complex Pathophysiology
Spinocerebellar Ataxias Research Methodology
The objective of updating DelveInsight coverage is to ensure that it represents the most up-to-date vision of the industry possible. The DelveInsight is a fully integrated solution for comprehensive intelligence on various pharmaceutical products, both in the market and in the pipeline, across the globe.
Media Contact
Company Name: DelveInsight Business Research LLP
Contact Person: Yash Bhardwaj
Email: Send Email
Phone: +919650213330
Address:304 S. Jones Blvd #2432
City: Las Vegas
State: NV
Country: United States
Website: https://www.delveinsight.com/