Dean Bates has announced the launch of his latest book, "A Life Well Lived"
Dean Bates's new Book Shares Inspiring Testimonies of the Lord's Role in His Life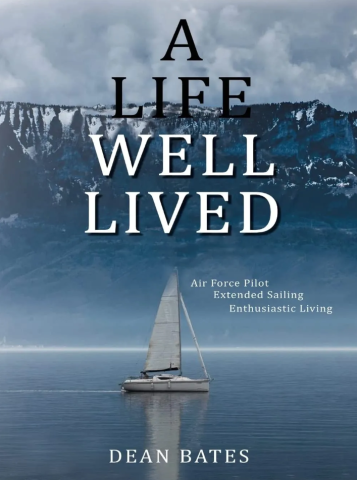 Dean Bates is pleased to announce the launch of his latest book, "A Life Well Lived." The book is a collection of inspiring testimonies of how the Lord has played a major role in Bates' life, including his time as an Air Force instructor pilot and his extensive sailing experiences. Dean Bates is a man with a rich and varied life, full of exciting adventures and inspiring stories. The book is a powerful and inspiring book that will inspire readers.
The author aims to inspire readers to seek a closer relationship with the Lord and realize that such a relationship is available to everyone. He hopes his life experiences will encourage readers to trust in the Lord's guidance and providence, even in the most challenging situations. For example, one testimony includes Bates' experience of healing from Bell's Palsy in Ethiopia, where his US doctor had no treatment, yet the Ethiopian doctor did. Through his book, Bates aims to encourage readers to seek a closer walk with the Lord and realize that such a relationship is likewise available to them.
After 55 years of faithful church attendance, Bates experienced a period of unemployment that lasted 11 months. After going on his knees in prayer for the first time, he was offered a job within five hours by a company he had not been in touch with for over a year.
"A Life Well Lived" is Bates' second book, following "Grandpa's Walk With The Lord," which he wrote after recovering from the loss of his wife. Bates is already preparing to write another book that describes and testifies to the living spirit available to all believers by the Holy Spirit. Bates believes that too few believers understand the help available from the Holy Spirit, the living part of the Holy Trinity, along with the Father and Jesus the Son.
"A Life Well Lived" is an inspiring and uplifting book that will encourage readers to seek a closer relationship with the Lord. The book is a must-read for anyone seeking inspiration and encouragement in their own walk of life. "A Life Well Lived" is available for purchase now on the official website of Dean Bates: https://deanebates.com/a-life-well-lived/
About the Author:
Dean Bates is an adventurous Air Force pilot and West Point graduate who has lived in Germany. He has a Christian lineage and has helped people through his care ministry. He is also a pianist with his own music ministry and wishes to share his life story to encourage others.
Media Contact
Company Name: Dean Bates
Contact Person: Dean E. Bates
Email: Send Email
Country: Germany
Website: deanebates.com/a-life-well-lived/