Watch an Exclusive Webinar and Get the 2023 Report Revealing Why Starting a Business on Amazon is the Right Move
Find out the strategies to generate sustainable profits and capitalize on the current market conditions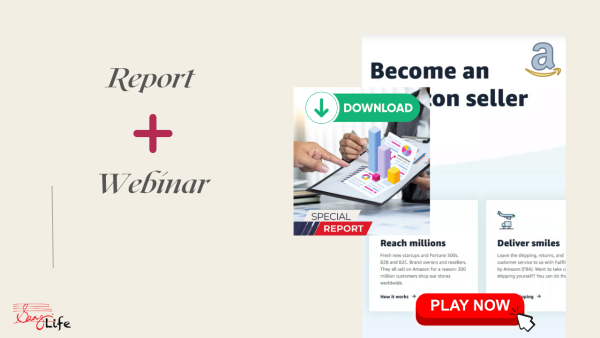 SaazLife announces the release of a new report for 2023, highlighting the current market conditions and the opportunities available for entrepreneurs looking to start their own businesses. The report shows that despite the challenges posed by the current economic climate, this is the right time to start a business, and Amazon is the perfect platform to help entrepreneurs achieve financial freedom. Complementing the report is an exclusive webinar replay that took place on Feb 21, 2023. The webinar "Why NOW is the best time in history to sell on Amazon" shows the step-by-step method to gain in the down market.
The report delves into why Amazon has been successful and offers insight into the strategies that can be implemented to generate over 30% margins in profits. With Amazon's massive customer base and powerful logistics network, entrepreneurs can leverage the platform's power to reach a wider audience and grow their businesses.
The Wholesale Formula webinar revolves around three key factors: selling well-known products that sell themselves, buying them in bulk to get manufacturer direct pricing, and cutting out the middleman. This formula has proven successful for many entrepreneurs who have followed it, and Jason believes it can be just as successful for anyone willing to put in the effort.
According to the report and webinar, the current market conditions offer unique opportunities for entrepreneurs to establish a business on Amazon. With the growing trend of online shopping, Amazon has become a go-to platform for customers, with millions of people using the platform every day to purchase products of their choice.
In the webinar, "Why NOW is the best time in history to sell on Amazon", marketing genius Jason Fladlien shared "If you take any of the traditional approaches people have been doing for the last decade on Amazon, you're not going anywhere unless you have a lot of time, deep pockets, and a tolerance for failure. I'm talking about private labeling stuff from China, affiliate stuff (which is practically at this point a joke on Amazon), reselling stuff, and so on. All that can be done, but since you don't have an edge it will be an uphill battle. There's a shortage of a certain kind of seller on Amazon. And as luck would have it, you don't have to be a tech wizard or have a whole lot of experience, or even wait for all that long to see your first cheque."
The best part is that this approach doesn't rely on a short-time loophole or a specific market condition or anything. It's a simple formula that has helped 960 folks initially sell over a billion on Amazon, and it's still way too undersaturated."
By utilizing Amazon's platform and its proven business model, entrepreneurs can establish a business and achieve financial freedom with ease. The report provides practical tips and strategies entrepreneurs can use to start a successful business on Amazon.
SaazLife is confident that the report and the webinar will be a valuable resource for entrepreneurs looking to start a business on Amazon. With the right mindset and strategies, the report provides a roadmap to achieve success and generate profits.
Entrepreneurs can get a copy of the 2023 report by visiting SaazLife's website. The report is available for download, and it's free of charge. The report provides entrepreneurs with the information and guidance to start a business on Amazon and achieve financial freedom.
Get your hands on the report at: https://secure.saazpro.com/2023-Report
To watch the replay of the exclusive webinar visit: https://secure.saazpro.com/Online-Training
About SaazLife
SaazLife is a leading provider of market research and analysis, with years of experience in helping entrepreneurs achieve success. The company's team of experts has a proven track record of providing accurate and reliable market data, which entrepreneurs can use to make informed business decisions.
Media Contact
Company Name: SaazLife
Contact Person: Anish Chatterjea
Email: Send Email
City: Los Angeles
State: California
Country: United States
Website: secure.saazpro.com/FreeBook