A Conversation with Njedeh Anthony for Exceptional Beings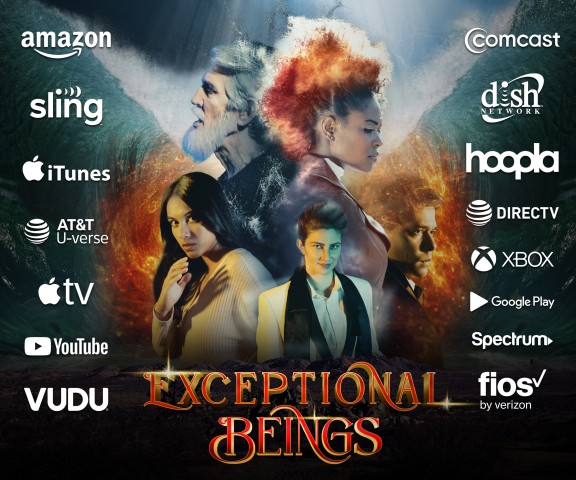 Hello everyone, welcome back to "A Conversation with", I am Benedict Nguyen and my guest today is Njedeh Anthony, did I get it right.
Yes you did.
You are not trying to be nice.
You pronounced it perfectly.
My last name is Nguyen, easy to pronounce if you know how, so I understand.
Thank you for that.
Let's jump into this. Exceptional Beings, wow! What can I say, I love it would be an understatement.
Thank you very much.
This is the second movie you have directed.
No, this is my first movie I've directed, I produced and wrote "Creatures of Necessity", I co-directed Exceptional Beings with Christian Kazadi.
I am curious, how that works, co-directing. I know the Russos, Warshowskis and Duffers do it, but they have that sibling thing going on. How does one own the vision when there are two directors?
I had worked with Christian prior on Creatures of Necessity, and that essentially gave use both a breadth of understanding on our weaknesses and strengths and that helped us create the movie.
Talking about the movie? Where did this idea come from? How do you wake up to this kind of storytelling?
The movie is a prequel to my novel Godhood, so that essentially gave me an endpoint to the destination of the denouement. I, like millions of people have always been fascinated by Greek mythology and this was an excuse to get it out there.

This movie goes further than Greek Mythology, I loved the concept or maybe I should say the reality that the mythologies are recycled.
Exactly, we are in a world in which, every world power wants to make everything theirs. For instance, Athena the Greek Goddess, was Minerva with the Romans and Neith with the Egyptians.
Talking about Athena, and you addressed this in a very hilarious way in the movie. Did you always want to cast an African American for this role?
In the book she was black, so yes. I was so blown away and blessed with what Ciarra did with the role.
Talking about the gods, why Hermes?
There is so much material out there on him, so I was blessed to jump on that. And its always a beautiful thing to unveil a character people tend to ignore. The character came to life so richly because Dane brought his magic to it. Justin and I were blessed with the Cast and Crew. For instance, Rachel was like a dare devil on set, she went way beyond to bring a lot of oxygen to the role of Mina.
At the end of the movie, I kept debating what the theme of the movie was. Is the movie about being human or is the about figuring out the point of our existence, gods or man. Light bulb moment! I am here with the writer and director, so I ask you sir. What do you want, let me rephrase that, what precisely do you expect the audience to take away from the movie?
That's a tough one. I don't want everyone to have the same precise take away from watching the movie, or else I essentially made a unilateral feature. I do want everyone though, to understand, and I believe the movie addressed it, that we are playing the same song written thousands of years ago, and we can just use the knowledge from the past and discover new things in the future. I hope I didn't stray from the question. Nevertheless, I do want them to know the movie is about being human, figuring out our existence as god or man, questioning the things we know are true and accepting there is nothing greater than love.
Nice, that's all the time we have. I am so happy I got to see this movie and I highly recommend it to everyone. Exceptional Beings would be available now to stream on iTunes, Amazon, SlingTV, am I missing anyone more.
Comcast, Dish, Vudu, essentially nearly every streaming platform, except Netflix for now.
This is Benedict Nguyen, join me next time in My Conversations with.

Media Contact
Company Name: The Gestalt Effect
Contact Person: Anthony
Email: Send Email
Country: United States
Website: www.njedeh.com