Luhswaggstarr launches new EP Swagg class vol 1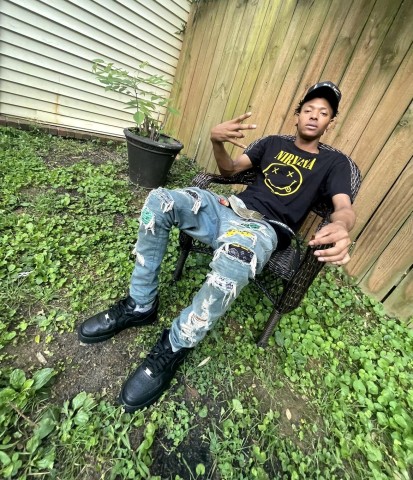 TBA artist Luhswaggstarr is an 21 year old, new upcoming artist from Nashville Tennessee Growing up in the Davidson County & eventually moved to the Rutherford County where he finished school.
Swaggstarrs says his biggest influencers in music would have to be Soulja Boy, Lil Uzi vert , famous dex, rich gang , 8ball & Mjg , Mike Jones, Do or die , 2pac & many more a couple more new wave rappers. Luh Swagg has choose n picked up favourable parts from each artist to make the swagg star we love & have in todays world.
If you're looking for somebody with hype, style, creative, versatile, lyrics and that brings untouchable energy to everything he does, with a style that's as swagg as his looks, you will not be disappointed when you turn him on.
Luhswaggstarr's newest project Swagg Class Vol.1 collaborated with Louie XO , is his 2nd project released 11/24/22 on Thanksgiving Day. Swaggstarr & Louie XO made their first project "Thot Slayer" on Louie XO's Thot Boy Exetended album of 2/14/22.
He is currently released on only SoundCloud & YouTube. Swaggstarr likes to keep his word promising as the hype & with hard-hitting and catchy songs such as "Splurge (prod.mowz), "Just Do It *Nike*" (prod.mowz), "The Team" featuring Louie XO & Ngc Tae, Another One, & Kim K .
Luhswaggstarr & Louie XO's "No Racks" single is trending quickly as it goes viral on tik tok prod by one of the worlds next big producers. (Prod.Bainz) who has worked with the likes of Duwap Kaine & many more big SoundCloud artist on the way up to the top. Also has gained more success in which he gained a larger crowd & Audience to the point he is eligible to become a paid Instagram influencer for music, motivation, style some modelling, and advertisement so make sure to be on the lookout for more from Luhswaggstarr from his 2main groups SSA ,& L2K4 featuring artist such as Mazi , hunndo hunnid , Louie XO & Jay$im.
Luhswaggstarr first buzzed on to the music scene with catchy songs like Splurge (prod.mowz), Ride Fa Meh++, and Speedy Gonzalez but his most balanced / fan favorite project is Modern Day Wayz for now.
Luhswaggstarr may be one of the future young wave greats with his creativity and Art with words the 21-year rockstar didn't grow up the best but stayed humble in his situation & got the opportunity to make something out of nothing.
I promise If you take a chance that Luhswaggstarr will be a future great and a future playlist add all around the world
Media Contact
Company Name: Luhswaggstarr
Email: Send Email
Country: United States
Website: https://www.instagram.com/luhswaggstarr