IPanergy® 8-Inch Clip-on Fan With LED Lantern
You don't have to sweat in a warm environment anymore. Get a portable fan you can use in your home, office, gym, and camping. Check it out now!

Did you ever want a Pokemon you can take anywhere you go? And maybe help you fight your nemesis alongside you? Of course, our younger self would like that, or perhaps our older self still does. Anyways!
Unfortunately, we cannot bring you that cute yellow squirrel-looking animal that somehow shoots electricity. But we can get you something realistic that you bring anywhere you like (which also deals with electricity). We are talking about a cute portable fan! Let's learn more about this three-legged creature.
Key Features
Ultra bright LED light on the front
36 LED bulbs
3 adjustable light intensities
8-inch clip
Rechargeable 10000mAh Battery
Battery life of up to 28 hours
Full 360° horizontal and vertical rotation
3 different wind speeds
Timer for automatic shut-off
Flexible tripod-style stand
Product Description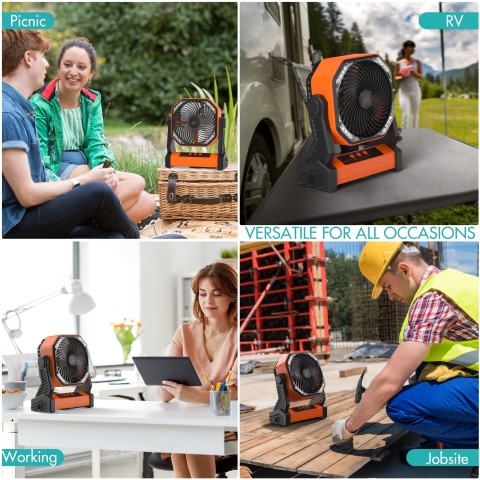 When we go camping, light, and fan are two of the essential things on our list along with tens of other products. However, due to the limited transport space, we can't bring all the vital products (I will never recommend leaving Cheetos home).
Luckily, with Panergy®, you can get a combo of LED lights and fans in the same product saving you valuable space for other products.
Due to the battery-saving option, you have more control over the fan with customizable fan speed and light intensity. With three speed options (from 7.2ft/s to 11.8 ft/s) and three light intensities (low, medium, and high), you can control the product and your environment better.
How can we forget the 10000mAh rechargeable battery?
With a working time of up to 28 hours, you can be assured that the fan will accompany you in your adventures for a long time!
Due to the flexible design, the fan can move 360° on the vertical and horizontal axis. Now, the children won't fight over who gets the most air!
Last but not least, the flexible tripod design! You can turn your fan into a tripod stand or wrap it around a rod-type structure with its flexible (and cute-looking) legs.
| | |
| --- | --- |
| Pros | Cons |
| LED at low and medium intensity can be used as a night light. | One fan might not be enough for a huge room. |
| Relatively quiet with minimum noise disturbances. | Possibly throw warm air when the room is not adequately ventilated. |
| Long battery life of up to 28 hours. | |
| Three adjustable speed levels. | |
Frequently Asked Questions
The Fan Throws Warm Air During Summers. Is There Any Way To Avoid That?
The fan takes air from the environment and pushes it in one direction. If the surrounding air is warm, the fan will throw warm air. Luckily! There are a few ways to somewhat prevent that turbo warm air during hot weather.
Create a crosswind that pushes the hot air out and cold air into the room
Utilize ice and frozen bottles, old-school but effective.
What Is The Approximate Battery Life At Three Different Speeds On This Fan?
If we close the LED light, the approximate battery life on the following three speeds is:
Speed 1 (7.2 ft/s) — 17 hours
Speed 2 (9.2 ft/s) — 8 hours
Speed 3 (11.8 ft/s) — 5 hours
Can I Install This Portable Fan In My Car?
Yup! That is the beauty of portable fans. You can easily transport and attach it to your home, car, office, or even a treehouse!
See What The Customers Are Saying
Along with overall solid 5-star reviews, see what some of our customers have to say:
I bought this specifically to take on a 4 day camping trip over Memorial Day weekend, and was pretty impressed! We charged it the night before we left, and the battery lasted almost 2 days. Probably would have lasted longer if we had turned the fan off during the day, but my kids turned it on and I didn't realize… also, the light was perfect for a night light, when hung at the top of the tent. Just enough light not to be distracting. Great investment! ~ Amber Hettrick
Exactly what I was looking for! I think this will really help keep me from getting overheated while working in the garden. Today was my first time using and I couldn't have been more pleased! ~ Peggy Michelson
And a hundred more reviews! Check the social proofs from here.
What Are You Waiting For?
You can bring this small Pokemon, ahm, machine on your camping trip.
Order Now to get
24/7 Customer Support: If you encounter a problem, don't worry! Our experts are here to help you at every step of the way
100% Money Back Guarantee: We trust our products enough to guarantee a complete refund!
Free Worldwide Delivery: Are you on vacation in the Maldives? Don't worry! You can get your product right at your hotel's doorstep.
C'mon! Are you still waiting? Order today!
Conclusion
If you're a hiker, trekker looking for a perfect outdoor fan or a B2B supplier wanting to drop a handsome quality of these fans into the market, I tell you there isn't any perfect time than now. You can get the finest of the outdoor fans from us in bulk quantity and deliver them the desired market to cater to the increasing demands of smart outdoor electronics.
Alternatives
Check out some more of our easy peasy lemon breezy products!
Media Contact
Company Name: Ipanergy
Email: Send Email
Country: United States
Website: ipanergy.com/