Transplantation Market at a CAGR of 11.5%, Market Trends 2030 – Rising prevalence of lifestyle-related chronic diseases
Rising incidence of organ failure and growing number of transplantation procedures across the globe are driving transplantation market revenue growth
The global transplantation market size is expected to reach USD 32.94 Billion in 2030 and register a revenue CAGR of 11.5% over the forecast period, according to the latest report by Reports and Data. Technological advancements in transplantation methods and emergence of tissue banks, especially in developing countries, are factors driving transplantation market revenue growth.
Adoption of tissue and organ transplantation services is rising due to development in surgical technologies, improving healthcare infrastructure, and gradually increasing awareness regarding organ donation. Growing number of tissue banks, as well as development of technologically advanced products, are expected to drive revenue growth of the market. In the transplantation industry, innovative 3D printing technology has been designed to create an organ/tissue similar to the one within the body, and this is expected to support market revenue growth. In addition, increasing initiatives by government of various countries across the globe such as donation campaigns and programs to raise awareness about organ donation is resulting in increasing number of organ donors.
Major activities of tissue banks is harvesting, processing, storing, and transporting human tissues for clinical use. At this time, the best preservation technique for processed tissue is low-temperature storage. Tissue banking is a complex system that requires a high level of technical expertise and skilled personnel to operate properly in a dedicated facility. Adoption of advanced refrigeration and introduction of new chemical preservatives are supporting development of tissue banks worldwide.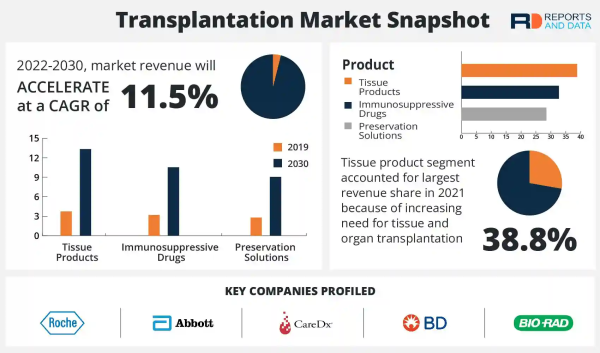 Some Key Highlights From the Report
On September 2021, Kidney Transplant Collaborative (KTC) launched a national nonprofit organization based in Washington, DC. KTC is a non-profit organization devoted to increasing kidney transplants while reducing financial barriers and other issues that recipients and donors require throughout the transplant process.
Immunosuppressive drugs segment revenue is expected to register a steady growth rate during the forecast period. Immunosuppressive drugs are used very commonly to prevent tissue or organ rejection after transplantation. It is highly beneficial for the patients in the post-transplant period, as a result, revenue from the immunosuppressive drugs segment is expected to register a steady growth rate during the forecast period.
Tissue transplant segment revenue is expected to register a steady growth rate during the forecast period. There is an increased demand for transplants such as cornea, bones, skin, nerves, tendons, veins, and heart valves as these are commonly needed for burnt and accident victims. This is one of the major factors driving revenue growth of the segment.
For More Industry Insight, Request [email protected] https://www.reportsanddata.com/download-summary-form/5099
Transplant centers segment is expected to register a steady revenue growth rate during the forecast period. Transplant center is an ideal option for older adults as it provides personalized care and prevents frequent trips to the hospitals. These centers also help in limiting risks such as contracting a hospital-acquired infection which is supporting revenue growth of this segment.
Asia Pacific market is expected to register faster revenue growth rate during the forecast period due to rising prevalence of chronic diseases and increasing cases of road accidents. Increasing global population coupled with increasing cases of organ failures such as kidney and liver failure are also contributing to revenue growth of the market in this region. In addition, continuous advancements in transplantation technology by major players in this region is expected to support Asia Pacific transplantation market revenue growth.
Companies profiled in the global market report include Veloxis Pharmaceuticals, Inc., Abbott, Becton, Dickinson, and Company (BD), bioMérieux SA, Bio-Rad Laboratories, Inc., CareDx, Inc., F. Hoffmann-La Roche Ltd, Hologic, Inc, Illumina, Inc., and QIAGEN.
For the purpose of this report, Reports and Data has segmented the global transplantation market based on product, wound type, end-use, and region:
Product Outlook (Revenue, USD Billion; 2019–2030)

Tissue Products
Immunosuppressive Drugs
Preservation Solutions

Wound Type Outlook (Revenue, USD Billion; 2019–2030)

Organ Transplant
Tissue Transplant

End-use Outlook (Revenue, USD Billion; 2019–2030)

Hospitals
Transplant Centers
Others

Regional Outlook (Revenue, USD Billion; 2019–2030)

North America

S.
Canada
Mexico

Europe

Germany
K.
France
Italy
Spain
Sweden
BENELUX
Rest of Europe

Asia Pacific

China
India
Japan
South Korea

Latin America

Brazil
Rest of LATAM

Middle East & Africa

Saudi Arabia
UAE
South Africa
Israel
Rest of MEA
Browse More Reports:
Genome Editing Market By Technology (Clustered Regularly Interspaced Short Palindromic Repeats, Zinc-finger Nucleases, Transcription Activator-like Effector Nucleases, Antisense, Others), By Product & Service, By Application, By End-Use, and By Region Forecast to 2030
Surgical Instruments Market Size, Share, and Industry Analysis, By Type (Surgical Sutures & Staplers, Handheld Surgical Devices [Forces & Spatulas, Retractors, Dilators, Graspers, Auxiliary Instruments, Cutter Instruments, Others], Electrosurgical Devices), By Application, By Category and By Region Forecast to 2028
Audiology Devices Market By Type (Cochlear Implants, Diagnostic Devices, Bone-Anchored Hearing Aids, Technological Hearing Aids, Hearing Aids), By Disease Type (Meniere's Disease, Otitis Media, Otosclerosis, Tinnitus,Acoustic Tumors, Acoustic Trauma), By End-Use (Hospitals, Audiology Clinics, Rehabilitation Centers, Ambulatory Surgical Centers (ASCs), Others), and By Region Forecast to 2030
Media Contact
Company Name: Reports and Data
Contact Person: John Watson
Email: Send Email
Phone: +1-212-710-1370
Address:40 Wall St. 28th floor
City: New York City
State: NY 10005
Country: United States
Website: https://www.reportsanddata.com/press-release/global-transplantation-market