FriendTales Is Working Towards Improving Mental Health of Pre-Teens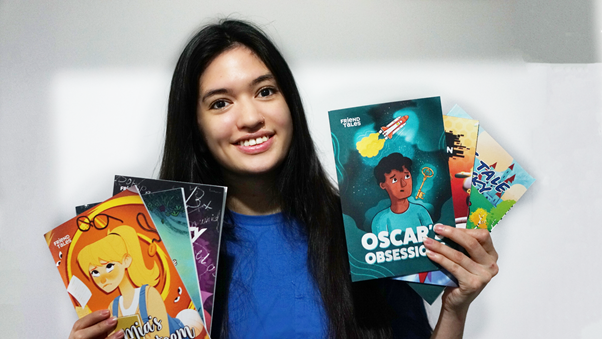 FriendTales start-up addresses the mental health issues of pre-teens during difficult times.
FriendTales was born out of a need to help children improve their mental health during difficult times. The company wants to be there for kids as they learn and work through their mental lows. "Real Imaginary Friends," created by FriendTales, are mental health characters who represent various mental health states. Think Inside Out, but with characters dealing with mental health issues.
The start-up focuses on the mental health of pre-teens. They aim to combat mental health problems and also enhance emotional intelligence.
Two products bring the "Real Imaginary Friends" to life: a comic series and chatbots.
Several comic books developed by this start-up are available on Amazon:
Simon: https://lnkd.in/dK2Da-FB
Lucky: https://lnkd.in/dJ48bbbW
Along with Oscar, Tommy and Mia as well.
By highlighting different symptoms of mental illness, the comics help kids relate to characters who have gone through similar experiences. Starting in middle school, the kids can learn and grow through the character stories in each comic. The characters will mature alongside the children, progressing through middle school, high school, and finally college. We want to make a character who matures alongside them.
Each character's chatbot allows children to begin to form a relationship and connection with the character. The kids can now talk to the character about their experiences and feelings. The chatbot brings the characters that the kids love to live.
A spokesperson stated, "At FriendTales, we believe that if you can bring in changes in your thought-process, you can bring about changes in the world. Raising a child is not an easy task. We want to provide the best condition for the child to prosper. A world free from stigma is what we aim to achieve".
They will soon be launching Mental health merch called @moody.clothing. FriendTales will be launching mental health emojis in May, followed by the launch of the chatbot and an NFT collection.
For more details, visit Friendtales.com
Instagram: @friendtales_stories
Twitter: @FriendTales_
Facebook: @friendtalesstories
About FriendTales
FriendTales arose from a desire to assist children in improving their mental health during challenging times. A comic book series and chatbots bring the "Real Imaginary Friends" to life.
Media Contact
Company Name: FriendTales
Contact Person: Emily Martin, CEO & co-founder
Email: Send Email
City: New York
Country: United States
Website: friendtales.com